Automobile Driving Training School
48/3, BRTC Staff Quater Marcket, Senpara, Parbata, Kafrul, Mirpur, Dhaka-1216,
Mobile: +8801870721163, Phone: 02-58050955, E-mail: info@pathwaybd.org
Course Fee
Manual Car = 9000/-
Auto Car = 7000/-
Scoote = 6000/-
Motorcycle = 3500/-
AUTO CAR DRIVING
An automatic car changes gears for you automatically in relation to the speed you're travelling and doesn't have a clutch pedal.
MANUAL CAR DRIVING
A manual car has a gear system that you operate yourself by moving the gear stick and pressing down the clutch pedal.
MOTOR CYCLE DRIVING
We provided Scooty And motorcycle training for Female and Male
OUR FEATURES
Free driving training facilities for working women and third gender
Help for Driving License that provided by BRTA
Provision of training by skilled trainer
THEORY CLASS: Every Friday & Saturday 4.00 PM to 6.00 PM
Scooty And motorcycle training for Female and Male
Get job at the end of the training
FACILITIES FOR
THIRD GENDER
BADAS
Driving facilities are also provided for the Third gender. Those who belong to this group generally earn their living through begging or by demanding money from pedestrians and shopkeepers. This has sometimes led to altercations and untoward incidents. These people are given free training. Pathway is trying its level best to bring them into mainstream society. Pathway Driving School is a non-profit organization. It's main purpose is to provide the have nots with a modicum of decency and to give them a chance to live free of want.
Driving Training School
Latest News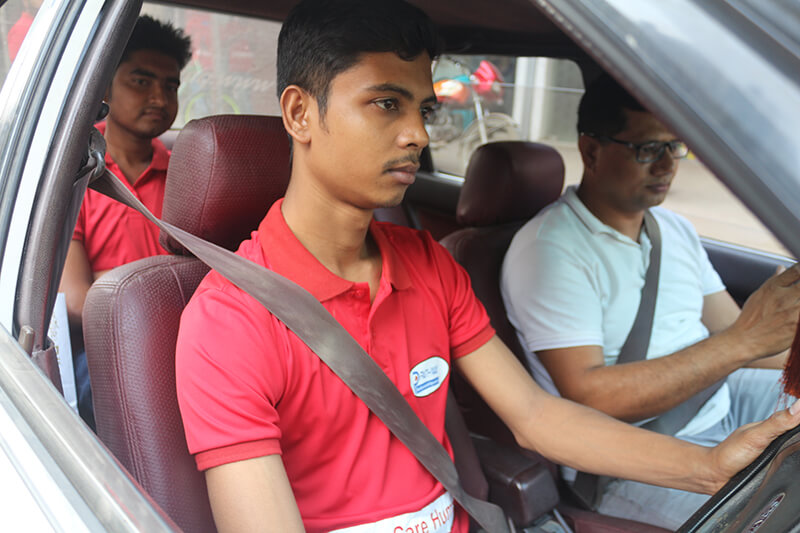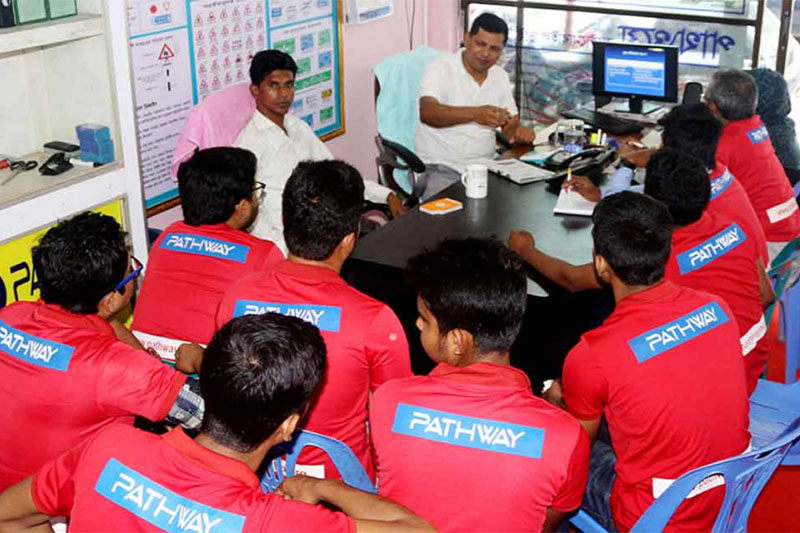 Media Coverage
Media Coverage of Road Safety Program
Details about Pathway Driving Training School:
Pathway is a private development agency. Works to improve the living standards of marginalized people in every district of the country. It is working to eliminate unemployment in society through various types of job-oriented training. Its main goal is to make the unemployed youth of the backward sections of society self-employed. Pathway Driving Training School is an affiliate of Pathway. Its main goal is to create skilled drivers. A skilled driver plays a role in preventing road accidents. You know what On average, how many people die in road accidents every day in Bangladesh, and what is the place of Bangladesh in road accidents. At present, Bangladesh is in fourth place in the world in road accidents. And in Bangladesh, on average, 417 people die in road accidents every day. The number of vehicles registered in Bangladesh is 34 lakh 96 thousand 720. In contrast to these registered vehicles, there are 16 lakh 79 thousand 417 drivers licensed by BRTA. So we think it is important to create skilled drivers in Bangladesh. Then the number of road accidents in Bangladesh will come down to some extent.

Bangladesh is a developing country. Many people in this country live below the poverty line. There are more educated unemployed than uneducated people in this country. At present, the unemployment rate in Bangladesh is 4.2 percent. When we look at the developed world, we see that they are improving their quality of life by taking vocational education. This career-oriented education includes driving training and beyond. So we are committed to reducing the unemployment rate in the country through training through Pathway Driving Training School.

Pathway Driving Training School offers training in various short-term driving courses at low cost. Pathway is a non-governmental organization in Bangladesh engaged in the service of humanity. So helpless poor disadvantaged people are given free driving training (subject to conditions). To avail of the free training, one has to apply along with the Director (Pathway Driving Training School) along with the certificate of the Chairman / Councilor of his / her area and photocopy of parents/voter ID card and mobile number along with photo and name of an acquaintance. He will be nominated after scrutiny by our executive committee. With the training of more than a hundred students from the institute so far, they are driving with a reputation in various government and private, bank, insurance, corporate offices and becoming self-reliant.
Here women and men are given driving training. Driving training is provided by licensed well-trained instructors. Theory and practical classes are given according to the training module to create skilled drivers.

* Theory class provides ideas on traffic signs, road signs, and automobile engines through digital multimedia in its hall room.
* Practical Class Daily Car Checkup, Signal, Mirror Move, Traceable Distance, Rotate Right to Left, Run Straight from Back? L parking, parallel parking, zigzag test and wheel opening, fitting, etc. are taught.
* With the training of men as well as women in Pathway Driving Training School, they are playing a role in preventing road accidents by driving with a reputation in the country and abroad.
* We have special training courses for working women and men.

We provide driving training as well as ideas about car automobile engine parts. Everything you need to be a skilled driver is taught hand-to-hand. Pathway Driving Training School produces 500 to 600 professional and amateur skilled drivers every year. Those who are creating self-employment by driving with a reputation at home and abroad and playing a role in preventing road accidents. Drivers are also given special training on road safety. This is making him a more self-reliant driver and driving consciously with the right rules. Holds meetings/rallies and cultural programs every year to demand road safety.

Above all, I will drive carefully, I will return home safely.
Drivers-passengers-pedestrians, obey traffic laws, prevent road accidents.